Welcome to Scenic Drive Resort's Lodge on Lake Delta.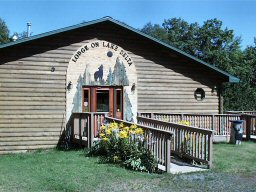 We built the Lodge beginning in 1999 and opening in April 2000. The latest adventure for us has been wonderful. The bar has a great view of the lake where you can see and watch loons, bald eagles, and fish rising to feed. The Lodge is a comfortable relaxed place where folks of all ages can come and have fun. The Lodge has viedo games, a dart board, and pool table for entertainment as well as a large screen TV and juke box. We're happy to try to find any sporting events you are interested in. Our favorite events are the Green Bay Packer games and we have a good turn out for our tailgate parties. Go Packers!
| | | |
| --- | --- | --- |
| | | |
| | Local trophies taken from area lakes | Boone & Crockett Whitetail Mounts |
The atmosphere is particularly welcoming to families. Some of our youngest customers beg their parents to stop at "Scenic Drive" for the burgers, pizza fries, and games. Our own children tend to help entertain the young ones while parents can enjoy a beverage and adult conversation.
In the summer, the lodge is air conditioned for those hot muggy days and if you prefer, the large deck has comfortable seating overlooking scenic Lake Delta.

Our menu is simple but tasty. We have the best sandwiches grilled to perfection over an open flame. Our ribeye steak sandwich is second to none served on a lightly toased bun with a hint of zesty bistro sauce. Our hamburgers have been rated as the best in the world by many of our customers. A favorite side dish is our buttered grilled asparagus sprinkled with our secret seasoning. We have a few hot and spicy selections for those who like it zippy.
| | |
| --- | --- |
| | |
| | Ribeye & Asparagus |
On Tuesday nights we serve our award winning BBQ ribs with Sir Charles Savannah Stype Sittin' Sauce. They are absolutely wonderful. Terry has won the People's Choice Award at the Iron River Rib Fest 2 years in a row and looks forward to continuing the trend.

| | | |
| --- | --- | --- |
| | | |
| Rib Dinner | Ribs Cooking | Head Chef Terry & apprentice Arianna |
We hope you come and enjoy our Lodge on Lake Delta.



Our Lodge is now Non Smoking